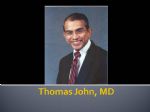 About the Presenter:


Thomas John, M.D.
Clinical Associate Professor,Loyola University at Chicago

Thomas John, M.D. is a cornea/external disease fellowship trained at Massachusetts Eye & Ear Infirmary, Harvard Medical School, board certified ophthalmologist, and clinical associate professor, Loyola University at Chicago. Former Director of Cornea Service, University of Chicago, and he is known to be a world leader in lamellar keratoplasty, has edited 3 surgical textbooks in lamellar keratoplasty, and teaches a live surgery course in Chicago.

Dr. John is the editor of Ocular Surgery News Corneal Dissection Column, Associate Editor of Annals of Ophthalmology, and is on the editorial boards of other publications. He has published extensively, and lectures nationally and internationally. He has received first place awards for his surgical videos from AAO, ASCRS, and ISRS. He is named as one of the nation's leading medical specialists in America's Top Doctors, America's Top Ophthalmologists, Chicago Top Doctor, Chicago magazine, and is listed in Cambridge's Who's Who.