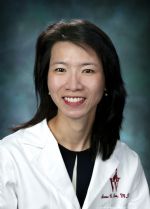 About the Presenter:


Irene C. Kuo, M.D., is Associate Professor of Ophthalmology at the Wilmer Eye Institute, and Medical Director of the Wilmer Eye Institute at White Marsh, Maryland. A corneal specialist and board-certified ophthalmologist, Dr. Kuo has clinical expertise in laser refractive surgery, corneal disease and surgery, corneal transplant and cataract surgery, and uveitis. Dr. Kuo is involved in a variety of research activities, including wound healing after keratorefractive procedures and the evaluation and treatment of infectious keratitis.

Dr. Kuo received her bachelor's degree at the Massachusetts Institute of Technology. She did her medical training at the University of California at San Francisco, completed her residency at the University of Southern California—Doheny Eye Institute, and her fellowship in cornea, refractive surgery, and uveitis at the University of California at San Francisco and the Proctor Foundation.