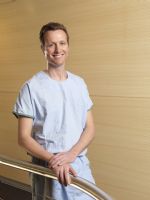 About the Presenter:


Dr James Genge

M.B., B.S., B.Med.Sci. (Hons)., F.R.A.N.Z.C.O.

Dr James Genge is an ophthalmic microsurgeon and internationally trained Corneal, Refractive and Cataract Surgery Subspecialist.

Dr Genge graduated in Medicine from the University of NSW, obtaining a further medical research degree with overseas experience in Burma on a scholarship. His specialist training was at Sydney Eye Hospital, after which he undertook advanced surgical training with a Corneal and Refractive Surgery Fellowship at Moorfields Eye Hospital in London. He now works in private practice in Sydney, Australia.

Dr Genge specialises in laser refractive surgery, corneal penetrating and lamellar transplantation, Intacs/Keraring insertion, collagen cross-linking and modern cataract and refractive intraocular lens surgery.

He is a fellow of the Royal Australian and New Zealand College of Ophthalmology. He is a member of the American Society of Cataract and Refractive Surgeons and the European Society of Cataract and Refractive Surgeons.