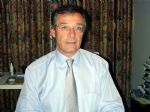 About the Presenter:


Georges Baikoff, Professor of Ophthalmologie at the University of NANTES left the public sector in 1988 for private practice in MARSEILLES at the MONTICELLI CLINIC.
Founding member of the SAFIR, he was President from 1998 until 2000. His main interest lies in surgery of the anterior segment and since 1986 has been working on developing the concept of refractive implants for phakic eyes. He has also directed his activity towards corneal grafts.