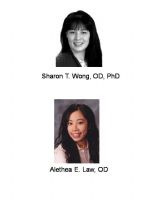 About the Presenter:


Sharon T. Wong, OD, PhD received her Doctor of Optometry from University of Montreal (Quebec). She has a Master of Science degree in Anatomy and Cell Biology (Queen's University, Kingston, Ontario) and a PhD in Vision Science and Biology (University of Waterloo, Waterloo, Ontario).
Prior to joining IRIS in 2005, she worked in low vision rehabilitation in Quebec (Nazareth & Louis Braille Institute). She has presented research at international conferences, published scientific articles, and taught at University of Montreal,University of Waterloo, and Queen's University. During her academic career, she won major research grants from the Ontario Neurotrauma Foundation and the Canadian Institutes of Health Research (formerly Medical Research Council of Canada). She currently serves as clinical optometrist and research/residency program director at IRIS Ophthalmology Clinic in British Columbia, Canada. She holds adjunct clinical faculty status with Pacific University College of Optometry, Oregon. For nine years, Dr. Wong also served as a medical illustrator. Raised in Montreal, she is fluent in French and English. In her spare time, she enjoys kayaking, cycling, and hiking.

Alethea Law obtained her Doctor of Optometry from the Université de Montréal in Québec, Canada. She has also studied neuroscience and languages in France and Spain. She has a multidisciplinary background including genetic research at the McGill University Ocular Genetics Lab and the Montreal Children's Hospital. She has also trained at the Montreal Association for the Blind, the Canadian National Institute for the Blind (Ottawa), and Indian Health Services in Arizona. Alethea is currently completing her optometric residency in refractive surgery co-management at the IRIS Ophthalmology Clinic in British Columbia, Canada. Alethea is an accomplished musician (Royal Conservatory of Music Award of Distinction) and has volunteered in humanitarian eye care projects locally and overseas (Romania). She also thoroughly enjoys photography, motorcycling, and dancing.