< Back to titles

> Poster home

> View all slides

> View additional images/videos



About the Presenter:


Dr Haralabos Eleftheriadis is a Consultant Ophthalmic Surgeon in the United Kingdom. He graduated from the Medical School of the Aristotelian University of Thessaloniki, Greece in 1989. Following completion of his training in ophthalmology at various hospitals in Greece and UK, he was awarded the Diploma of Specialist Ophthalmologist in Greece in 1997. Since 1997, he has been included in the Specialist Register of Ophthalmic Surgeons in the UK. Dr Eleftheriadis had further specialist training in anterior segment and cataract surgery as well as refractive laser surgery in the UK and Spain. He holds positions in the NHS and as Consultant Refractive Surgeon at Ultralase. Dr Eleftheriadis has published extensively in various peer-review ophthalmic journals and has lectured in numerous national and international conferences. He has also served as reviewer for several peer-reviewed journals. His special interests are refractive, cataract and anterior segment and he has been involved in refractive surgery since 2002.

Dr Eleftheriadis is a member of the UK Society of Cataract and Refractive Surgeons, the European Society of Cataract and Refractive Surgeons and the British Society of Refractive Surgeons. Dr Eleftheriadis underwent LASIK laser eye surgery treatment himself in 2003 and has performed over 9000 laser eye surgery procedures.




Contact the presenter at:

Authors:
Eleftheriadis, Haralabos




Go to slide:
1 2 3 4 5 6 7 8 9 10 11 12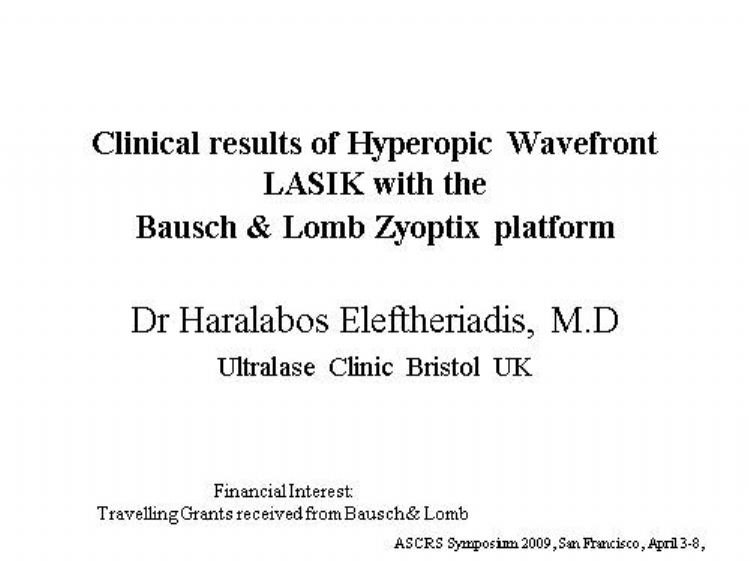 Loading image. Please wait
Title, Author, Institution