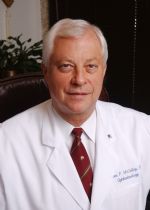 About the Presenter:


James P. McCulley, M.D. was born in Fort Worth, Texas, and graduated from Texas Christian University in 1965 and received its Distinguished Alumnus Award in 2001. He then attended Washington University School of Medicine in St. Louis, Missouri, where he received a Medical Degree in 1968. He subsequently did a straight medical internship on the Harvard Medical Service at Boston City Hospital prior to spending five years at the Massachusetts Eye and Ear Infirmary. During his five years at the Massachusetts Eye and Ear Infirmary he was a resident in ophthalmology for three years and a fellow in Cornea and External Disease under the tutelage of Claes H. Dohlman, M.D., Ph.D. for two years. He received the Harvard Department of Ophthalmology Distinguished Alumni Award in 2006. He was then a staff ophthalmologist at Bethesda Naval Hospital (1974-1976) before joining the faculty in the Department of Ophthalmology at Stanford University Medical School. He spent four years at Stanford during which time he collaborated with David M. Maurice, Ph.D. His primary research interest during that time included the development of a technique for the transplantation of tissue cultured corneal endothelium as an alternative to full thickness corneal transplantation, evaluation of ocular chemical injuries, and an NIH supported research project evaluating various types of chronic blepharitis. He then joined the faculty at The University of Texas Health Science Center at Dallas, Southwestern Medical School, in 1980 before becoming Professor and Chairman of the Department of Ophthalmology in 1981. Dr. McCulley currently holds the David M. Bruton, Jr. Chair in Ophthalmology. His research interests include more than 25 years of NEI/NIH supported evaluation into the pathophysiology and therapy of chronic blepharitis and associated "dry eyes." This work not only has led to the understanding of chronic blepharitis but to a very thorough understanding of the lipid layer of the tear film which is produced by the Meibomian glands. His work has allowed the development of a model for the structure of the lipid layer of the tear film and has led to the identification of the biochemical abnormality accounting for the "evaporative dry eye". His research interests have also included extensive evaluation of acanthamoeba keratitis. He identified the association between contact lenses, their solutions, and the development of acanthamoeba keratitis. He has worked extensively on the pathophysiology and therapy of this severe infectious disease. He also has a long-term interest in the tissue culture and transplantation of single layers of corneal endothelium and epithelium. He has had multiple other research interests in the past including basic and clinical research on chemical injuries of the eye and multiple pharmaceutical trials. He has published over 350 citable scientific publications. He has also served as Chair of the NEI Study Section and Chair of the FDA Ophthalmic Device Panel during which time excimer lasers for refractive surgery were first introduced and approved for use on humans. Dr. McCulley has published extensively in peer-reviewed journals, i.e., over 300 citable manuscripts, abstracts and lectures. These include many articles on corneal refractive surgery. He and his associates have published some of the best outcomes in refractive surgery in the world.

Dr. McCulley is the Medical Coordinator of efforts between the Department of Ophthalmology at The University of Texas Southwestern Medical Center and the Order of St. John to create faculty rotations at the Order of St. John's Eye Hospital in Jerusalem. He also serves as an Associate Examiner on the American Board of Ophthalmology, and has the lead role in the establishment of a partnership with Prevent Blindness TX to reestablish, on an annual basis, the "Eye Ball" in Dallas, Texas. He has served on multiple local, state and national boards and has been an invited speaker at multiple locations, nationally and internationally. Dr. McCulley and his associates have been involved in research and clinical practice of corneal refractive surgery for more than 25 years. They have been involved in FDA trials that have help result in the current excimer laser technology now available on the market. Dr. McCulley conceived and directed the creation of the Laser Center for Vision Care at The University of Texas Southwestern Medical Center in Dallas where he practices and which he oversees to the present time. The Laser Center prides itself on always providing the most up-to-date technology so that the best technology for the individual's eye is available, e.g., all laser LASIK.

Dr. McCulley and his associates constantly mention patient outcome and publish those results in peer-reviewed journals. These results continue be among the best in the peer-reviewed literature in the world.